Web Design and Development
Professional Web Design and Development Services in Edmonton
We've worked with hundreds of businesses in Edmonton and Central Alberta to grow their presence on the web, and improve experiences for their customers. The best websites are a beautiful blend of creative talent and technical expertise. Our design and development process brings together a team of talented designers, skilled developers, and experienced marketers to provide our clients exceptional results within their budgets.
Have questions about web development or getting your site built? Check out some of our Frequently Asked Questions!
Click and Download our Free Resource Guide! See Package Pricing
Website Design
Every project begins with a creative exploratory process between our team and our client. Our web designers will work their magic to create a impacting visual concept that captures the desired result. There will be plenty of opportunity to give feedback to our designers through the process to ensure the needs of the client are represented to satisfaction.
Additional services are available within our team, such as photographers and illustrators, to ensure the most unique and visually stunning results are possible.
Here are a list of some of our design services available:
Website Development
Bringing the conceptual design to life rests in the capable hands of our development team. They will use the final web concept design to build the functioning, dynamic template of your website. Their experience with the latest web tools will ensure quality and ideal results which your visitors should expect from a modern website.
Our developers can incorporate such features as:
How do I get the Best Web Design results?
There are a few things you should know about Web Design and creating great Web Sites before you kick off your project.
The first thing you need to know is that your Web Designer will only be able to meet your expectations if you understand your goal and how to clearly define your expectations.
Designers and Programmers create great web pages through the use of graphic design, content writers, search engine experts, and complex coding languages. When the pieces are combined, the result is a living and breathing creation.
Each of the members on a Web Design project bring years of experience. Graphic design know-how allows your site to grab attention without turning-off potential visitors. Programmers are experienced in application behaviour, and the expectations of elements of the site, and writers have experience in turning a want into a need.
With your end goals and key desires, Microtek will pool expertise to provide the 'best-fit' of technical implementation strategies to deliver on your goals.
So Microtek, If you're so full of experts, why can't you just understand what I want and build it?
When a client is focused on their business and end goal, they can lose sight of those technical details, particularly when we aren't familiar with them. Your Web Designer exists to use best practices, experience, and technical knowledge to achieve your end goal, and implement as much of the experience (your desired product) as possible without compromising the usability, or security of the end product.
So what do I need to tell them? What's my homework?
You need to understand the purpose of the site you want to build. Is it a glorified business card? A means of contacting you, or does it need to accept requests, documents or files from a client?
Will you be marketing the site directly in advertising? Are you anticipating traffic to the site from search engines as a primary means of getting visits? What is the site's purpose with respect to your business or your brand?
What can you supply? Will you provide quality line art or vector images of your logo for example? Photographs of your product(s)? Will you provide the 'copy' that fills the pages or do you anticipate Microtek writing appropriate content for the sections you have envisioned?
Have you provided your view of the contents – how you picture someone USING your site? What they should be able to do, and how you've envisioned them doing it?
Have you compiled a list of sites that embody the experience you would like to create for your customers or visuals supplied visuals you are moved by?
All of these things will help narrow down the focus of the web designers, to deliver a product that best embodies what you intend to create, in service of the end goal you've already provided.
Clients should expect that their project will a a collaboration. Putting content and expectations in place in the early phases of development will create a clear path to the finished site. The result – a successful project!
---
Our Clients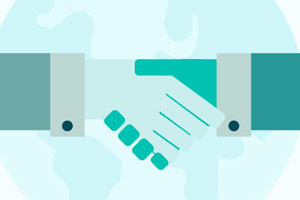 ---
Mobile App Development
Microtek also offers full development services for Mobile devices!
We specialize in creating web-apps with custom front end Android and iOS applications. We are capable of platform specific app development as well, though we urge clients to do their research on platforms first. Web apps provide much better value, and shorter development cycles.